Easter Craft Fair at Rastrick Library
25 March 2015 | Admin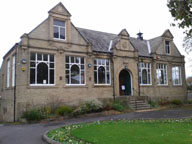 If you are in the Calderdale or Kirklees area of West Yorkshire, you won't want to miss the Easter Craft Fair at Rastrick Library on Saturday 28 March, running from 10am to 12.30pm. I'm delighted to have been invited back with Night Owl Creative to another of these convivial events - a really great way for all the family to spend a Saturday morning.
Entry to the library is free, and as well as all the wonderful craft stalls, there will be an Easter Egg Hunt and an Easter Bonnet Competion (judged at 11:30am), both just 50 pence per entry, along with some Easter themed craft activities for the children. Seasonal refreshments will also be available for a small donation. All the money raised will go to the Friends of Rastrick Library Group, which is a voluntary group trying to encourage wider use of the library, and to improve access to the building.
I'm personally really looking forward to this - I have some brand new hand-crafted goodies to debut, including some unique hand-painted pendants, one-of-a-kind memory wire bracelets and some beaded bookmarks with gorgeous cultured pearls. There's a 10% discount for all my lovely newsletter subscribers plus a little Easter FREE GIFT waiting for you when you visit my stall. These treats apply to new subscribers too, so please bring your friends.